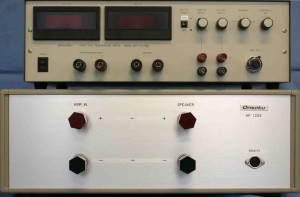 Product Summary
When OMT-205 A including OMT-205AH system was modified , this system input signal of 10kWrms using AP-1203.
Measurement can follow the signal source of sine waves, white noise, pink noise, or music source in the frequency range from 20Hz to 20kHz.
The measured temperature and input voltage are simultaneously displayed on exclusive digital displays. For recording of the changing input voltage and temperature, two DC output terminals are provided and simultaneously recorded to show the relationship between the two.
・This unit can use BTL power amplifier as well as single-ended power amplifier.
Optional unit : Data logger for voice coil temperature meter OT-1009
Product specifications
Maximim Input Voltage : 600Vp-p
Measuring Temperature Range : 0 to 400℃
Resistor Range : 2Ω, 4Ω, 8Ω, 16Ω, 32Ω   5 ranges

OPTION: Dara Recorder OT-1009